Submitted by

BINARY MOTOR

on Wed, 07/01/2015 - 16:39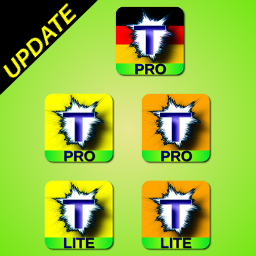 The month of July arrives with new Pick Text Pro (v1.4.1), Elige Texto Pro (v1.3.1), Wähle Text Pro (v1.1.1), Pick Text Lite (v1.9.1) & Elige Texto Lite (v1.5.1) updates.
Among the most important nolvelties, aside from some internal improvements on all apps, it must be noted that like previously on Lite versions, now all Pro apps include full support for AndroidTM 5.1.1 Lollipop.
Furthermore there have been added 25 new acronyms (lingos) and their corresponding full texts for Wähle Text Pro.
With these updates, you will further enjoy the quickest way to send messages through WhatsApp, Telegram, Email, SMS or copying and pasting wherever you like, either choosing the word or text from the app itself or creating them yourself.
Also, it must be noted that the five apps are available now for over 9,000 different Android devices. And they are not only available, but also they are fully optimized and adapted to screen specifications of all these devices.
Download now these apps on the Google PlayTM Store to enjoy all its novelties.
And follow the newest of Binary MotorTN on www.binarymotor.com and on social networks Facebook, Twitter and Google+.
Binary Motor: Software for your world.